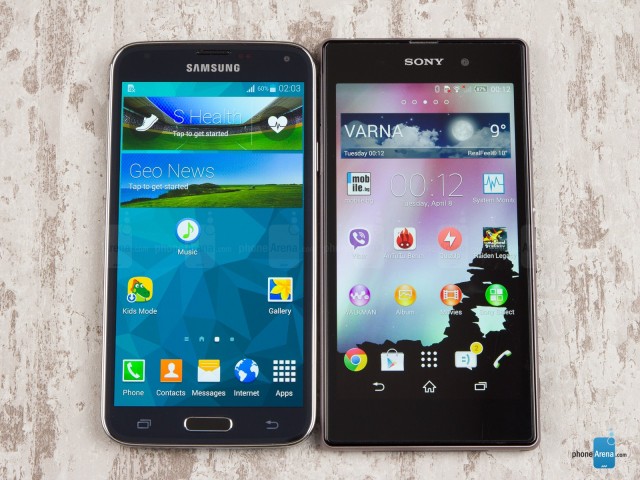 The Sony Xperia Z3 and the Samsung Galaxy S5 are the new arrival in the recent market; let's see the comparison review of Sony Xperia Z3 vs Samsung Galaxy S5 comparison review.
The price of the Sony Xperia Z3 is £549 and the Galaxy S5 can be around £390.
Design:
Sony Xperia Z3 has dust and water resistant and the Samsung also has the same features but the Samsung has a rating of IP67 and the Sony Xperia Z3 touts IP68. The first number relates to dust and the second one is water, so both are completely same in dust protection but the Sony somewhat better in water resist, because the Galaxy S5 can be submerged in up to 1m of water for up to 30 minutes, the Xperia Z3 can handle up to 1.5m so is marginally better. The Xperia Z3 is a little thinner at 7.3 mm compared to 8.1 mm Samsung S5 but since it's a slightly larger phone, it's heavier at 152 g against 142 g.
Screen:
The Galaxy S5 has a 5.1in screen while the Xperia Z3 has 5.2in display found on the Xperia Z2 but both have Full HD resolution. The Galaxy S5 has a 432 ppi pixel density Super AMOLED technology and the Z3 offers 424 ppi IPS LCD display and its own Triluminos and X-Reality.
Processor and GPU:
Both Sony and Samsung opting for a Qualcomm Snapdragon 801 processor and Adreno 330 GPU speeded with 2.5 GHz quad-core chip, but the Galaxy S5 has 3 GB of RAM instead of 2 GB.
Storage:
Samsung S5 comes in 16 or 32 GB model but the Sony has decided to launch the Xperia Z3 with the 16 GB and both have a MicroSD card slot for adding up to 128 GB of storage.
Wireless:
Both come with the latest wireless technology such as the 11ac dual-band Wi-Fi, Bluetooth 4.0, NFC and Cat 4 LTE 4G.
Cameras:
The front facing for selfie of the Galaxy S5 has a 2Mp webcam while the Xperia Z3 offers a slightly higher resolution 2.2Mp shooter but both can shoot video in 1080p quality. Samsung offers 16 Mp on the Galaxy S5 while the Xperia Z3 offers 20.7 Mp cameras with Sony's Exmor RS sensor.
Consider all the features and specification while you buy.
---