Article contributed by Garima Mehta for OSC – faster fasteners for the trade.
Fasteners and fixings are understandably some of the most important accessories for any tradesman or do-it-yourself enthusiast. However, the sheer variety of designs which are available can be a bit confusing. To make things a bit easier, let's take a look at some of the main categories and the major features that define each type.
Common Bolts
Wood Screws
One of the most striking features of wood screws is that their threads are spread further apart (for gripping power) and they display a pointed tip (for easy entry into the material). This tapered point also allows them to be a self-tapping screw. You may see wood screws referred to by the acronym WS.
Machine Screws
Due to their flat tips, machine screws are meant to be used in conjunction with an appropriately sized nut. Their threads are much closer together when compared to wood screws. The heads of machine screws can vary. Some will be able to accommodate a screwdriver while others could display a socket-type head (such as a hex head) that will require the use of a nut driver or a ratchet.
Eye Bolts and Lags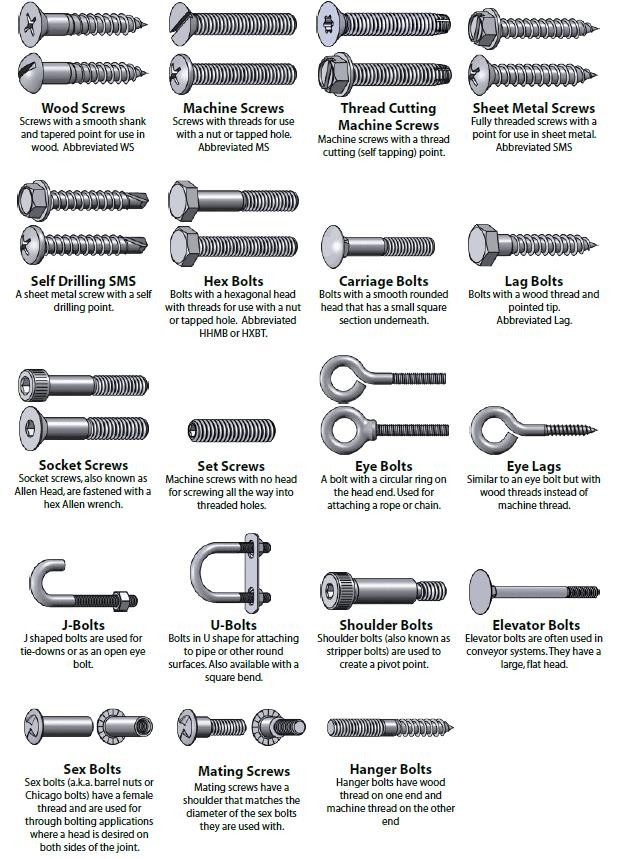 This type of fastener is often employed when one needs a tie-down point or wishes to hang an object (such as a painting or a wire). Please note that there is a major difference between an eye bolt and an eye lag. Eye bolts are characterised by machine threading (thus the use of a nut is normally required). This is not the case with the self-tapping tip of the eye lag.
Types of Head Styles
The heads of these fasteners and bolts can vary substantially. This category can be broadly broken down into those which are flat (countersunk within the surface of a material) and raised heads. Flat bolts are frequently used in home construction projects such as when installing drywall. Raised heads serve a variety of other purposes. Some will have rounded or domed tops while others known as "hex heads" require the use of a socket for installation. Common varieties can likewise exhibit a Phillips head or a flat head; ideal for the average screwdriver. Combination heads (known as "combos") are able to accommodate both styles.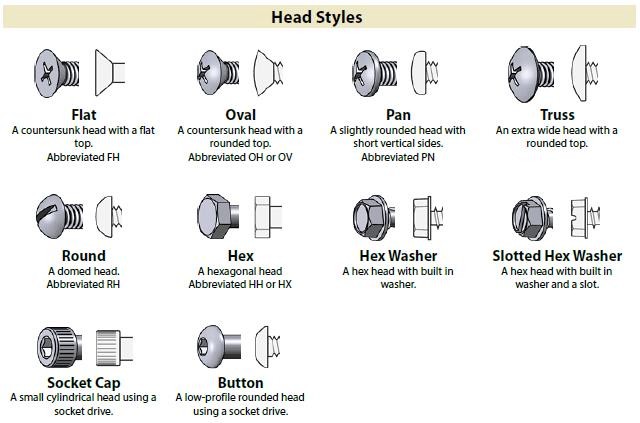 Washers
Washers are designed to evenly distribute the static load of the screw while lessening the chances that it will become loose. Once again, there are a variety to choose from. The most common type is the simple flat washer. An oversized washer known as a "fender" can be used to spread the load out even further. Dome washers can provide a finished look and are often used in conjunction with oval-head screws. A split-lock washer is also very common and can be employed when the static hold of a bolt is extremely important.
These are only a handful of the types of fasteners and fixings that are available. Appreciating the attributes of each will enable you to make the right choices at the appropriate times.
Identification Charts for Different Types of Fasteners: Head styles, Bolt and Screw, Drive, Washer and Nut types