Many news swirls around the online regards Android L, now the smart mobile users thoughts full of how the Android L vary from the Kitkat on performance, features, interface, material design, apps basic. Let's read this review to know more about it.
Android L versus Android 4.4 Kitkat in Design:
The Android L introduced new material design such as the multitasking and notification shade, when compared to the Kitkat you can get all the basic information such as the date, time, Wi-Fi, Airplane mode, notifications about the apps and more on the three layer of the Notification shade. Enjoy the smooth animation cards based multitasking in Android L. But Kitkat offers slide type of multitasking and few options on the notification shade.
Android L versus Android 4.4 Kitkat Lock screen:
Good pretty feature of the Android L is the Lock screen, which offers simple swipe up to unlock, left to launch the camera and right to open the dialer, you can also easily access the quick settings by single swiping down the notification shade, but in Kitkat you can't get these notifications on screen.
Android L versus Android 4.4 Kitkat Home screen:
When compared to the Kitkat, in Android L you can find the different home screen buttons such as the triangle for back button, a circle for home button, and a square for multitasking button, but the Kitkat vary in this home screen.
Android L versus Android 4.4 Kitkat battery life, security and performance:
Android L offers amazing battery life due to the battery saver mode, while the battery saver mode on brightness of the mobile gets dim and reduction in the performance level, but it lacks in performance when compared to the Kitkat. The Android L offers location and proximity based levels of security.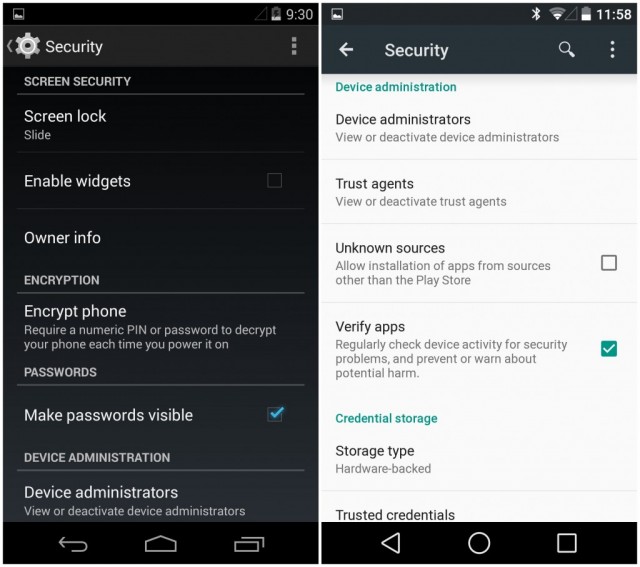 These are the important difference android L having when compared to the Kitkat.
---