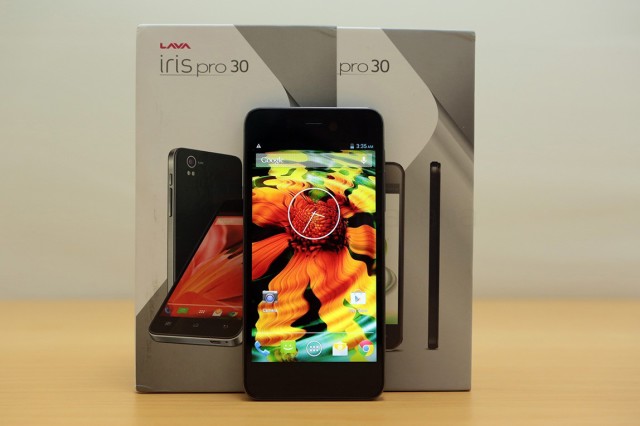 Past couple of years, Indian smartphone makers like Micromax are giving tough competition to their International competitors. Recently Lava had launched its Iris Pro 30 smartphone, for people who looking for a good Android smartmobile on a budget in India, let's we figure out whether this smartphone is worth buying or not?
Lava Iris Pro 30 is the important milestone from Lava, which offers features such as Flip to Mute, Automatic calling/answering, unlocking smartphone by face and voice.
Lava Iris Pro 30 is the first phone that the company has designed in house, which looks slick and classy and it weighs 114g and is 7.5mm thick. It is very nice to hold and can easily slip into the pocket. It has a very thin and flexible back cover and it has a matte finish which helps in keeping the fingerprints at bay. The new classy Lava Iris Pro 30 comes with a non-removable battery, MicroSD slot and SIM slots.
While consider the screen, which is a stunning 4.7-inch display with 720p resolution that has a 312 ppi pixel density, which has a One Glass Display and it is protected by Corning Gorilla Glass. The IPS screen is sharp and vibrant and has decent viewing angles.
But most important and considerable flaw is 4GB of internal storage, which is too low and the user can accessible 2.5 GB of it and the other thing is, lack in clarity of the camera.
Users also feel great, that the display of the Lava Iris Pro 30 is good for its price point, 2,000mAh battery capacity allow you to enjoy your day, but working with its 8 megapixel camera, leave a fast snappy but picture quality is not that great. The camera takes decent shots in daylight, but the low-light shots have a lot of noise.
The flagship from Lava, Iris Pro 30, will be a better partner for those who need a lighter and budgetary smartmobile.