Customers, we can't easily make them satisfy, because each customer need is unique but all will come to the common platform when consider the budget or money. Smart mobile available from different range for budget considering customers Motorola Moto E and Nokia Lumia 530 is best. Now our review will help you to grab a better one among the couple of mobiles.
Design and build:
In terms of design Nokia Lumia 530 is slightly lighter than the Motorola, because its weight is 129g than the 142g. Nokia is also a little bit thinner with 11.7mm against the Moto E with 12.3mm. The Moto E is wider and taller with the dimension of 64.8×124.8mm but the Lumia 530's dimension 62.3×119.7mm.
Display:
Under the display category the Motorola Moto E has 4.3inches with the resolution of 540×960 pixels and the panel has anti-smudge and splash proof coating and the screen protected by the tough protective Gorilla Glass. The Nokia Lumia 530 has 4inches of display with the resolution of 480×854.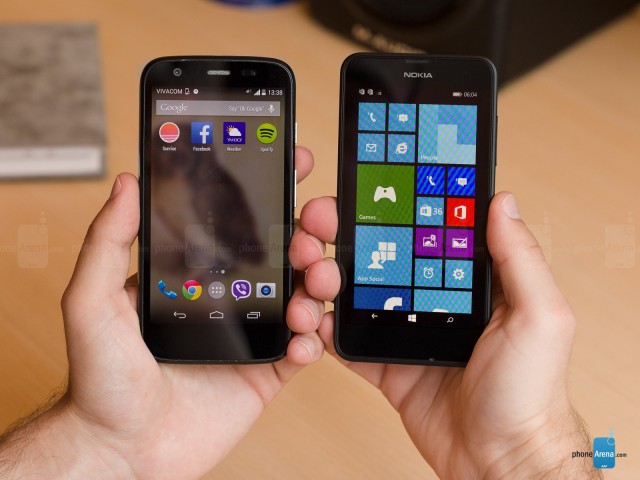 Processor, graphics and performance:
Nokia Lumia 530 runs under the Windows Operating system and the Motorola Moto E powered by the Android based operating system. Both have 1.2GHz Qualcomm Snapdragon 200 chip, but the Motorola processor is dual-core and the Nokia is quad-core. Both runs with the Adreno 302 graphics but memory of the Moto E are twice than the Lumia 530's 512MB RAM allocation.
Storage, Camera and Connectivity:
The Nokia Lumia 530 offers 128GB by additional MicroSD but the Moto E offers only 32GB but it comes with 15GB of free cloud storage via One Drive. Since both phones are supplied with just 4GB of internal storage. Both offers 5Mp of rear camera but the Lumia 530 supports slightly higher-resolution video than does the Moto E. Both offer 2.4GHz 802.11b/g/n Wi-Fi, Bluetooth 4 and GPS and more connectivity features.
A major difference between the two mobiles is the apps, while Windows Phone is gradually getting more and more apps and Android lags. So Procure a smart mobile as per your need.
---