It's almost impossible to keep up with the numerous new car technology features emerging. But, as a savvy car buyer, you want to know what's worth paying for and what's not. Here are some of the best features being developed today, and how they will help you drive safer, and smarter.
Head Unit Integration
New head unit integration replaces the traditional car stereo or "head unit" with full navigation and mobile phone connectivity. For example, many vehicles are now coming equipped with Apple's CarPlay, Android Auto, and Pandora integration, complete with a touchscreen interface.
These units allow you to put your mobile phone's home screen up on a large screen so it's easier to see. It's also a safer way to integrate navigation into your vehicle. The systems typically allow you to make and receive phone calls, use your mobile device's built-in navigation system, and the on-board music player.
Bluetooth Adapters
Bluetooth adapters are also changing the way we use our vehicles. The best integrated option is to buy a new navigation system that incorporates it, but this can be expensive. A low-cost bluetooth kit can also be added as a stand-alone option.
Backup Camera
If you're wondering why buy an Explorer, it's for the backup tech. Even on low-end models, Ford is working it into their vehicles ahead of the national rollout.
Backup cameras are promising to change the way we drive in a fundamental way. A rearview camera is integrated into the license plate area or a rear-facing badge. The camera then captures what's behind the vehicle and displays it on an in-dash viewscreen.
The driver can see more than if he or she simply relied on the rearview mirror and looking out through the rear window.
These systems used to be found only on high-end luxury vehicles, but more and more manufacturers are putting them on low and mid-tier models. But, you don't have to buy a new vehicle to have one. Aftermarket models cost anywhere from $15 for a cheap camera to $300 for a high-end rearview backup system.
Some of the systems also come with audio warnings and sensors to let you know if you're about to hit something.
Heads-Up Display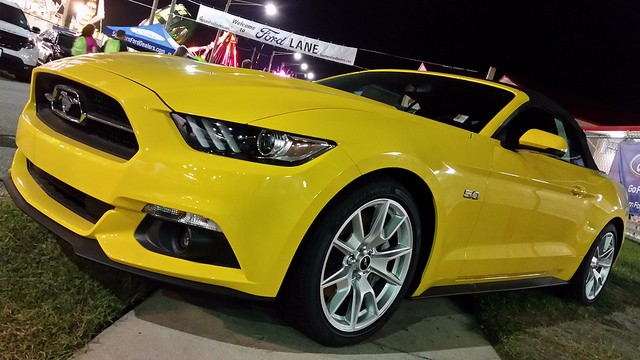 Heads-up display is a quiet technology. It's not new, but it's being used more and more in newer vehicles. Once you experience its benefits, you'll wonder why more vehicles don't have them. A small device displays important information right on the windshield, so you can keep your eyes on the road.
Information like vehicle speed, audio levels for the sound system, even navigation information, can be displayed right in front of you.
Driver Assist Systems
Driver-assist systems, like lane departure warning systems, and intelligent cruise control systems warn you when you move out of your lane, and adjust the cruise control speed automatically when others around you are speeding up and slowing down spontaneously.
Hands-Free Liftgates
This is another innovation by Ford. It's new hands-free liftgates allow you to open the rear door of your hatchback or SUV by making a kicking motion near the bumper. Two sensors detect shins, and a kicking motion with one leg, to open the rear hatch. To close the tailgate, make the same kicking motion.
Ford rigorously tested this system to prevent false positives, and requires the individual to have the keyless remote on or near them while opening the door. They also tested the system for false positives, like a grocery cart moving past the bumper, pets getting in the way, and people walking just a little too close, as well as a heavy rain.
In short: the system works, and it's amazing.
Kyle Marshall has managed to carve out a career in the auto industry. He keeps up to date with all the latest technological developments designed to improve our motoring experience and writes for a number of different car interest websites.
---
Image by michel,CC-BY-CarImages Under Creative Common License.