Studying Russian language isn't a simple task in case you are not of Slavonic origin. It seems impossible to a novice to understand the logic of using all those conjugations, endings and cases. The Russian language differs greatly from the groups of Romanic, Germanic and Scandinavian languages. Some time ago only few people were eager to learn Russian. English was regarded as international language and all the talks with Russian-speaking partners were held in the English language. But at the present time the situation has changed. Taking into consideration that the links with partners from East Europe have increased considerably speaking Russian language is these days an advantage. This will give you a chance to find a common language with people in the Eastern Europe since all of them speak or at least understand the Russian language. (Image by oneholeinblackeye )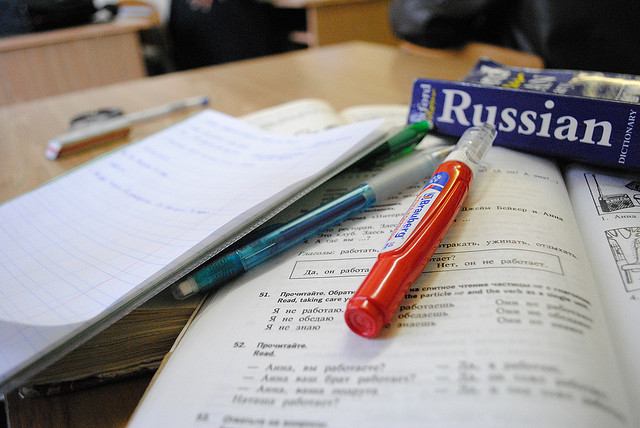 When it comes to studying Russian language you are provided with a selection of methods to study a foreign language. These are usually some courses in Russian, independent studying using textbooks and other instructional materials, reading fiction books and viewing films in a foreign language and so on. These ways have their pluses and minuses, it's up to you to take a decision which one suits you best. But there is a method that in fact combines all the mentioned issues. It is a special online program containing information prepared and systemized by ethnic Russians having a scientific degree in linguistics.
The program provides the highest results as it isn't a monotonous studying of a foreign language. You have a chance to daily choose an activity that seems attractive to you now, for instance, grammar learning, reading funny stories, learning Russian proverbs and idioms, listening to Russian songs and reading Russian books, getting interesting information on Russian culture and viewing a photo gallery of Russian cities. However, the most noteworthy feature of this site is an exclusive online tool that can translate, decline and conjugate Russian words and give you their grammatical characteristics, antonyms, synonyms and so on. And you will receive all this information just merely in a few moments! So actually there is everything at the web page that you need to learn Russian language. In addition, if you happen to have some questions or just want to get a pen-friend to practice your Russian speaking skills you can turn to the forum where you will definitely find similar-minded people.