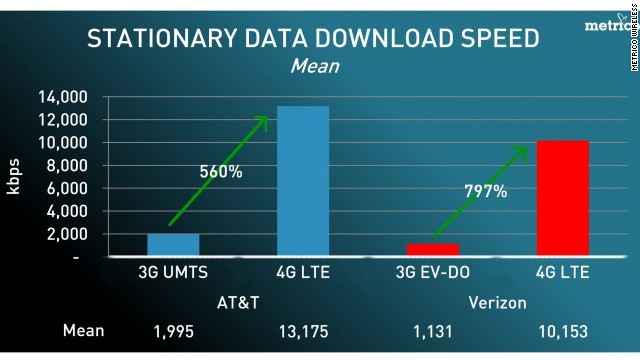 When 3G first arrived on the scene it presented a massive change from what had been in existence previously; it actually provided decent access to the Internet from a mobile device, learn more at iiNet. The implementation of 3G actually made smart phones practical. But now 4G is here, so what is the main difference?
In simple terms the major benefit of 4G is speed but there's a lot more to it than that. It represents a definite improvement in service; but is it always worthwhile having a cell phone with 4G capability?
How does the difference between 3G and 4G work?
Everyone thought 3G was fast, and it was at the time of its inception, but it pales in comparison to 4G. Put it this way, the average download speed on a 4G network is between 3 and 6 Mbps which exceeds the peak download speed on 3G of 3.6 Mbps; the peak speed on 4G is 10 MPs. You can see why there is a growing preference for 4G compatible devices.
If you want to Skype on your cell, or watch movies, then you'll love 4G. It benefits from QoS(Quality of Service) which allows for different data steams to be given various levels of priority. The high priority levels afforded to video and Skype mean that the quality of transmission is greatly improved, for uninterrupted viewing and talk.
If 4G is so much better should I always opt for a compatible handset?
The answer to this is going to depend on where you live, in which areas you will be using the phone, and what your budget is. If you live in an area with dense 4G provision, or you're going to be using the phone in such an area, then it may be worth making the investment to secure a faster and more efficient service.
On the other hand if you spend most of your time in areas where there is little 4G coverage then is it really worth spending the extra money on a cell phone that you can't fully utilise? If there isn't a 4G signal available the best you can hope for is a traditional 3G service.
The issue with purchasing a new phone that doesn't have 4G capability is that if the signal becomes stronger in the areas you inhabit you stand the chance of losing out. You then have to make a choice as to whether you want to change your phone again.
A big part of your decision will be about how you use your phone; if it's all about calling and texting you may not benefit that much from 4G. This is because it's mainly about the data; it's the first generation of mobile technology that is actually centered on data transmission. The fact is that in contemporary times there is often a need to catch up over the Internet and this is where the benefit of data speed comes to the fore. This is where 4G really comes into its own.